Laguna Treatment Hospital: Aliso Viejo, CA
24552 Pacific Park Drive Aliso Viejo, CA 92656
Drug and Alcohol Rehab Center in Aliso Viejo, California
Orange County's first chemical dependency recovery hospital, Laguna Treatment Hospital offers the safest, highest-quality medical detoxification with 24/7 nursing care. Combine this with a luxurious residential rehabilitation program that offers a wealth of amenities, and you have everything you want in a treatment program.
View All Photos
Full Continuum of Care
With a staff comprised of more than 70 registered nurses, licensed marriage and family therapists, and recreational therapists, Laguna Treatment Hospital provides medical detox and inpatient residential treatment in Orange County, California. Laguna Treatment Hospital offers inpatient care at varying levels of intensity, with aftercare planning and assistance finding transitional supportive housing. Before discharging from Laguna Treatment Hospital, our aftercare coordinators will help you find a fitting outpatient rehab or other aftercare option. Populations considered for treatment at Laguna include (but are not limited to): those with such as diabetes, HIV, syphilis, high cholesterol, and more.
Care for Co-Occurring Mental Health Disorders
Clinicians at Laguna Treatment Hospital are equipped to treat patients with co-occurring mental health disorders and co-occurring physical conditions. Using a whole-person approach to rehabilitation, Laguna Treatment Hospital may utilize medications and behavioral therapies to adequately treat patients.
Chronic Medical Conditions & Physical Challenges
Laguna Treatment Hospital is equipped to care for medically compromised patients and patients with physical health challenges. The medical director will review patients' medical records prior to admission and determine if Laguna's sub-acute environment is equipped to treat each person's presenting medical problem in conjunction with their addiction to drugs.
For example, if you are diabetic, you will receive a nutritional consult from a registered dietitian at Laguna Treatment Hospital. The nursing staff will help you monitor your blood sugar, administer insulin if needed, and provide you with lots of education about a healthy diabetic diet. Similarly, the resident chef will be aware of your condition and whether they must design a specific diet for you.
If you suffer from chronic pain, our clinical staff may prescribe you non-opioid pain medications. If we determine that your pain is related to an underlying issue such as a traumatic injury, neurological issue, or orthopedic issue, we may refer you to outside specialists or physical therapy to ensure you get the appropriate care and that you are as comfortable as possible during your treatment.
Individual Therapy
Individual Therapy Individual therapy generally lasts around one hour and takes place at least once a week. Laguna Treatment Hospital clinicians may employ certain therapies including cognitive behavioral therapy (CBT), dialectical behavioral therapy (DBT), and motivational interviewing (MI) to patients depending on their particular needs.
Group Therapy
Group therapy sessions at Laguna Treatment Hospital last 90 minutes and may take place 4 times a day, 7 days a week. The focus of group therapy depends on the particular session, but may include topics such as relapse prevention, CBT groups, substance use disorder specific DBT groups, and clinical process groups. For patients with post-traumatic stress disorder (PTSD), clinicians typically discuss traumatic events in private, 1-on-1 therapy sessions rather than in a group setting.
Psycho-educational and Alternative Therapies
Additional treatment interventions are offered to therapeutically support your overall care and wellbeing. Below are a few of our noteworthy offerings:
12-Step recovery groups.
12-Step alternatives: SMART Recovery, WellBriety.
Therapeutic recreation: A recreational therapist will work with you several times a week, using music, art, outings, and physical conditioning as ways to improve physical, mental, social, and/or emotional functioning.
Yoga and meditation: At Laguna, a master's-level therapist with advanced yoga training provides therapeutic yoga sessions. Weekly gender-specific yoga sessions are held in the yoga center or outside when weather permits.
Medication-Assisted Treatment (MAT)
Medication-Assisted Treatment (MAT) Laguna Treatment Hospital utilizes some forms of Medication-assisted treatment (MAT) alongside behavioral therapy to treat those who are suffering from substance use disorders. MAT can be especially effective in treating opioid use disorders and alcohol use disorders. At Laguna Treatment Hospital, clinicians may or may not use MAT to help patients manage chronic pain.
At Laguna, our treatment team of professionals consists of 4 case managers who are certified drug/alcohol counselors, 6 primary licensed or license eligible therapists, board-certified physicians and medical staff (physician assistant and nurse practitioners), registered nurses, an advanced level yoga instructor/therapist, recreational therapist, and a crisis counselor/therapist.
Our clinical team is staffed with master's-level professionals and certified substance abuse counselors. Our medical director, Dr. Gary Mitrevolis, previously provided care to incarcerated patients as an addiction medicine specialist with the state of California Correctional Health Care Services.
A high staff-to-patient ratio helps optimize individualized patient care, and approximately 40% of Laguna's direct patient care staff are in recovery.
Trace Swartzfager, Chief Executive Officer
Trace Swartzfager is the Chief Executive Officer of Laguna Treatment Center. Trace's personal recovery journey led him to his behavioral healthcare administration career more than 30 years ago.
Prior to joining the American Addictions Centers team, Trace served as CEO of both Acadiana Treatment Center and Vermilion Behavioral Health System in southwest Louisiana. In addition, he served as Vice President, Behavioral Health Services at St. Dominic Health Services and Administrator, Behavioral Health at Pine Grove Recovery Center in Mississippi. In all of his previous positions, Trace worked to create behavioral healthcare centers of excellence including addictions treatment programs that contained all levels of substance use disorder treatment.
Trace is a former member of the board of Trustees of the National Association of Behavioral Healthcare (NABH) and the American Hospital Association's Section for Behavioral Health Services. Trace is board-certified in healthcare management and a Fellow of the American College of Healthcare Executives (ACHE).
Gaurav Gandotra, MD, Behavioral Health Director
Dr. Gaurav Gandotra brings in a wealth of knowledge in the field of psychiatry, addiction medicine, managed care, and leadership. He is a highly accomplished and well-known expert in the field of psychiatry. Double-boarded in psychiatry and addiction medicine, he serves as behavioral health medical director at Laguna Treatment Hospital.
After completing psychiatry training at prestigious Western Psychiatric Hospital, Dr. Gandotra joined the clinical faculty at the University of Pittsburgh where he precepted residents, medical students, nurse practitioners, psychology students, and PhD students while providing quality evidence-based care and authoring numerous publications. He spent 15 years in academia before moving to California in 2020. He took on medical directorship/leadership roles at a managed care company and various hospital settings prior to joining Laguna Treatment Hospital in 2021. He also holds a voluntary faculty position at UCR to continue his passion for teaching.
Dr. Gandotra's interests include the interplay of mental health and substance use disorders, relapse prevention, and emergency and inpatient psychiatry. He strongly believes in the biopsychosocial model of behavioral health and strives to provide individualized and holistic treatment planning rather than a one-size-fits-all approach.
Gary Mitrevolis, MD, FASAM, Medical Director
Dr. Gary Mitrevolis graduated from the University of Toronto and obtained a bachelor of science degree with honors with a specialization in toxicology in 2000.  He then went to St. George's University in Grenada, Wisconsin, for medical school and obtained his doctor of medicine and was part of the Iota Epsilon Alpha honor medical society.  After graduating from medical school, he completed an internal medicine residency at Upstate Medical University in Syracuse, New York.
After residency, Dr. Mitrevolis practiced as a hospitalist in Dover, New Hampshire, where he was exposed to the devastating consequences that the disease of addiction had on many of his patients.  This inspired him to complete a fellowship in addiction medicine at Maine Medical Center.  From there, he provided care to incarcerated patients as an addiction medicine specialist with the state of California Correctional Health Care Services.  Dr. Mitrevolis now joins Laguna Treatment Hospital as medical director.
Laguna Treatment Hospital has translators available to communicate in the following languages:
The Joint Commission
Laguna Treatment Hospital is accredited by The Joint Commission for Behavioral Health Care, an internationally recognized symbol of healthcare quality and the gold standard of care for the industry. This accreditation signifies that, through external, unbiased evaluation, we have met or exceeded The Joint Commission's standards for providing addiction treatment for all of the levels of care offered at Laguna Treatment Hospital, including high acuity medical detox.
Chemical Dependency Recovery Hospital (CDRH)
Laguna is currently the only rehab center in Orange County, California licensed as a subacute care facility/chemical dependency recovery hospital (CDRH). Hospital licensure designation is a significant differentiator. A majority of California residential detox programs are licensed by the Department of Health Care Services. Laguna Treatment Hospital is licensed by the California Department of Public Health and is unique in that we offer medically supervised detox programs in Orange County with withdrawal management, daily medical rounds, 24/7 nursing care, and medication administration.
One of America's Best Addiction Treatment Centers
Newsweek in conjunction with Statista ranks Laguna Treatment Hospital as one of the best addiction treatment centers in the United States for the last 4 years.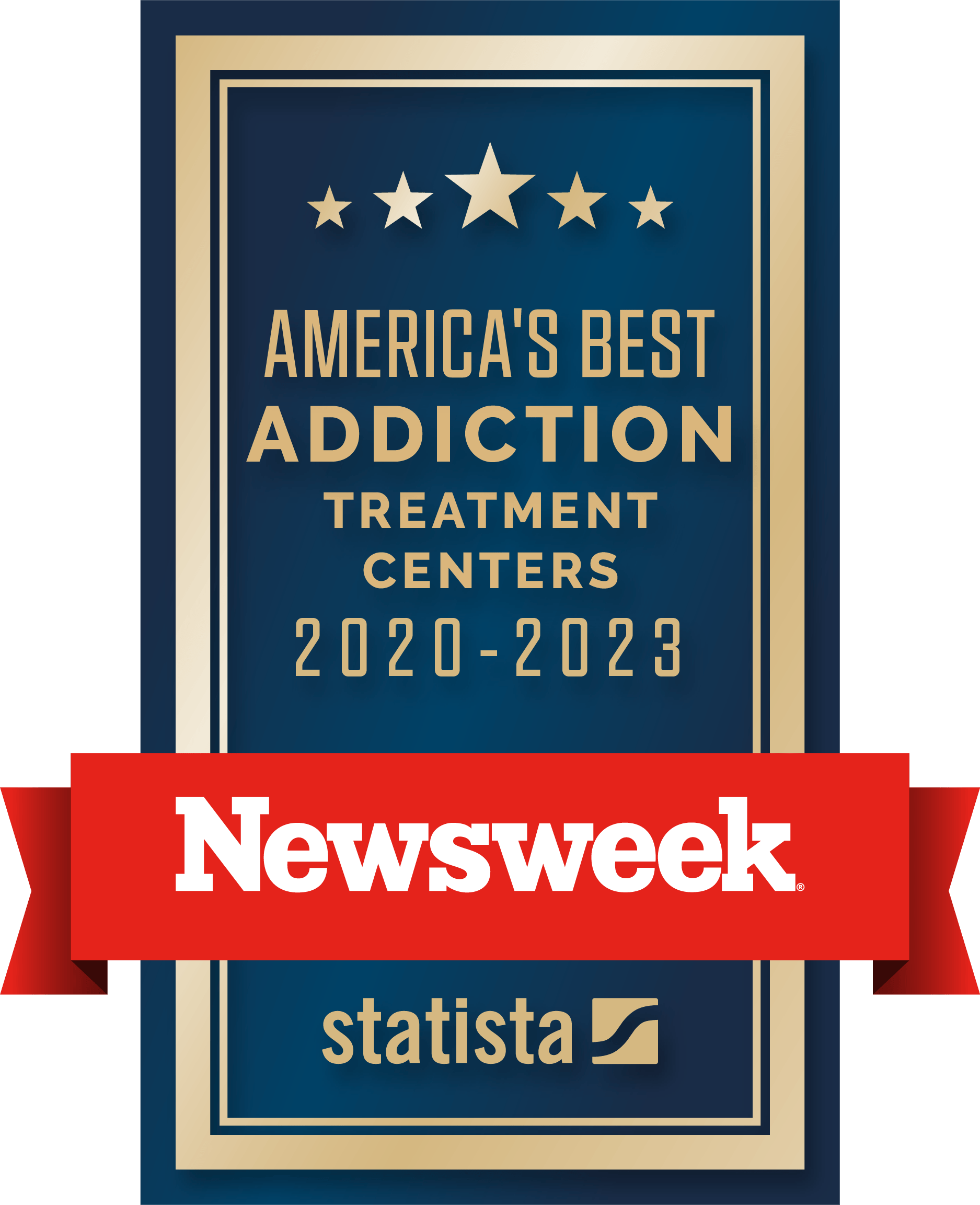 Programming
Laguna Treatment Hospital, our rehab in Aliso Viejo, CA, offers family therapy to patients during treatment. If they wish, they may facilitate a Skype, telephone, or in-person meeting through their therapist. Additionally, our team can help you or your loved one find Al-Anon, Narc-Anon, and other family support groups in your area.
Upon the patient's admission, Laguna's clinical team will contact their family within 24 hours if given consent by the patient to release information to them. Family members looking to contact their loved ones may contact the staff directly. If a ROI (release of information) is on file, staff may communicate. Otherwise, patient information is confidential. We take patient privacy very seriously.
Visiting Your Loved One
During your loved one's treatment, we can work with you to plan a visit to our treatment center in Aliso Viejo. Your loved one's treatment team will provide you with all of the information you need to schedule your visit. Laguna Treatment Hospital is easily accessible by car or plane. We are just minutes away from Laguna Beach and John Wayne Airport in Santa Ana.
Payment and Insurance Options
A variety of payment and insurance options are available. Among them, two popular insurance providers for patients at Laguna Treatment Hospital are:

Top Reasons to Choose Laguna
We are located in the premier location of Orange County, California.

Laguna Treatment Hospital is a serene and beautiful place to begin the most important journey of your life: the journey to recovery. Located in desirable Orange County, we are surrounded by palm trees and glowing sunsets. We are a short drive from both Los Angeles and San Diego, and are only a 15-minute drive to pristine Laguna Beach and the gorgeous tide pools.

We offer comfortable, hotel-style accommodations and amenities.

You'll feel at home at Laguna Treatment Hospital with features including a warm and welcoming lobby, common areas with outdoor air patios, full-sized, and upgraded queen size beds. You'll have the option to upgrade to a private room with a mini-fridge, microwave, Keurig machine, and big-screen television. Guests have access to an on-site pool, computers, Wi-Fi, basketball court, ping-pong tables, and fitness area.

We offer multiple levels of care personalized to your individual needs.

Whether you need a medically supervised detoxification program to overcome the symptoms of withdrawal, or are looking for a live-in inpatient or residential program, we have the program for you.

We offer 24/7 medical monitoring during detox.

You can rest assured that we take your safety extremely seriously. Our medical detox patients are medically monitored around-the-clock by a staff of registered nurses.

Our staff is outstanding, supportive, and qualified to meet your needs.

Our care team of doctors, nurses, case managers, and facility administrators are qualified and ready to meet your needs. Laguna's compassionate and friendly staff understand your struggle. Over 40% of our direct care team members have personal experience with addiction and recovery and empathize with the experience of our guests in treatment.

Our high standards in providing quality care have afforded us various licenses and accreditations.

We are uniquely licensed as a Chemical Dependency Recovery Hospital by the California Department of Public Health (CDPH). We are also accredited by the Joint Commission. These licenses and accreditations ensure that we meet quality standards, have highly trained staff, provide medically monitored treatment technology, and 24-hour nursing care.

We are committed to maintaining professionalism and privacy.

Your privacy is our top priority. All staff are trained in keeping your treatment experience confidential and respected, and you can trust that our staff to be compliant and professional 100% of the time. We comply with the strictest HIPAA laws. Even family members will not receive information about your treatment without your express permission. You'll never have to worry about your privacy when you come to Laguna Treatment Hospital to recover.

We work with your individualized needs to guide your recovery process.

Our patients make our program what it is. We wouldn't have the quality program we do without the investment of our patients and their families. More than 60% of American Addiction Centers' alumni report being abstinent from all substances at 12 months post-treatment, and this reflects the commitment of our patients and alumni to their recovery. Many of our alumni even come back to work for us! It is a joint effort to make our program as successful as it is, and we invite you to come work with us to put addiction behind you.
We regularly treat disorders related to the following substances:
Alcohol.
Heroin.
Opioids.
Marijuana.
Methamphetamine.
Cocaine.
Benzodiazepines.
Prescription stimulants.
Sleep aids/sedatives.
Prescription drugs.
Fentanyl.
Hallucinogens.
Other substances.*
*We provide treatment for almost all substance use disorders. If you don't see a particular substance listed here, contact our admissions navigators to confirm treatment availability. 
A Typical Day in Treatment
Not every day in treatment will be the same; however, you can expect regular structure as you go through the rehab program.
Here is an example of a typical schedule:*
7 am: Breakfast
8:30 am: Town hall patient meeting
9:00 am: Recovery group meetings, with 10-minute breaks once per hour
Noon: Lunch, medications, and vital signs taken at the nurse's station
1:30 pm: Individual therapy sessions, specialty groups, and physical activity, with 10-minute breaks once per hour
5:00 pm: Dinner, medications, and vital signs
6:30 pm: Personal time
7:00 pm: 12-step meetings
9:00 pm: Reflection on the day and go over next day's assignments
11:00 pm: Lights out
*Note: This is just a sample schedule. Daily programming is subject to change.
The next steps to getting treatment include, reaching out, finalizing the plan, and getting to treatment.
Step 1: Contact us at Or fill in our insurance verification form below and one of our caring admissions navigators will reach out to discuss your options at American Addiction Centers.
Step 2: Talk with one of our navigators about your physical, mental, and financial situation so they can help you create a treatment plan and find the best placement for you. Our team will communicate with you to determine your treatment needs, discuss costs and insurance coverage, and help you set up travel to one of our rehab facilities.
Step 3: Arrive and begin treatment.
Our Programs and Services
Length of Stay
The length of stay for rehab varies and depends on:
Level of care needed
Whether you need detox, inpatient program, or outpatient program.
Cost and insurance coverage
Whether your insurance may be able to cover all or part of the cost of treatment.
Our 90 Day Promise
In the event of a relapse at any time post-treatment, we will provide qualified individuals with up to 30 days of treatment at no cost to you.*
*Terms and conditions may apply, and results may vary.
Learn More About Our Brand Promise
Laguna Treatment Hospital Reviews
Are You Interested in Treatment?
We accept various health insurance plans and can work with you on creating a manageable payment plan to fund your treatment stay at Laguna Treatment Hospital.
Simply fill out the form below or
* These fields are required
More Treatment Facilities