Tom Arnold: Addiction is No Laughing Matter
Lights. Camera. Substance misuse? Yes, the third word in that Hollywood catch phrase uttered by millions is "action." But so many film and TV careers of some of our most brilliant actors have been riddled with a checkered pattern of alcohol and substance misuse that seem to be just as front and center as their prolific careers. Actor Tom Arnold is one of them. Tom has been sober for over 5 years now, but he's faced active addiction, sobriety, and relapse at different points throughout his Hollywood career. Today, he is in recovery and sharing his journey with others.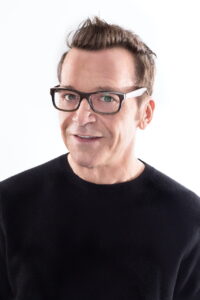 Addiction, Sobriety & Celebrity
Joy Sutton, host of American Addiction Centers' talk show, Addiction Talk, interviewed the comedian and actor.
Tom has written for the original hit sitcom series Roseanne, as well as acted in nearly 200 films and TV series, including True Lies, Happy Endings, and most recently, The Rookie: Feds. But make no mistake, he's been consistently working hard over the last 30+ years, even racking up numerous credits throughout the pandemic.
The famed actor opens up and speaks candidly about his early years in Iowa—where he grew up—his early experiences with alcohol, his Hollywood career, and what life looks like now as a single dad of two young children. Be sure to watch this episode of Addiction Talk entitled: "Out of Character: Sitcom Star Shares his Secret Battle with Addiction."
It Started with Alcohol Addiction and Ended with Sobriety
"I had a lot of close calls and the one deal I made [with myself] was, 'I'm never going to do drugs.' In my town, it was people that drank all the time," Tom recalls, remembering his teen years in 1970's Iowa. He drew the line at drinking alcohol; he didn't dare cross that divide into drug use.
Alcohol brought enough obstacles his way. He started drinking when he was 12. He recounted the time his father had to bail him out of jail naked after Tom and his friends thought it would be funny to streak through an assisted living facility because, in his words, at the time, he thought, "the nurses will love it." They weren't amused. And as the future actor's father was bailing him out, he asked Tom if he thought he might be an alcoholic. Tom couldn't fathom such a thought.
Shortly after high school, Tom abandoned his only-alcohol policy and started using drugs as well.
Today, when the actor reminisces about his overall life, he admits, "…the reason I'm still alive is because I've always gone to 12-step meetings. I've gone when I relapsed, and I've done it for 35 years. It's the thing that's saved my life."
There was a time when he was sober for 19 years. His acting career was flourishing. He was in a good space. However, life immediately changed when he wrecked his motorcycle and broke his back. At the time, he was sponsoring guys who were using opioids and heroin. "I would always say to them, 'That's not my thing.' My thing is alcohol and cocaine."
But when the ambulance came to the rescue and the paramedic asked if he was in pain and Tom responded with a resounding "yes," he was given a shot of fentanyl. And he remembers thinking, "Oh, this is what I needed."
One devastating event. One injury. One decision. Just one can change everything and put an individual on a path towards a destructive destination. Luckily, Tom found his way back to the road to recovery. One step at a time. One day at a time.
To learn more about Tom Arnold's road to recovery and beyond, be sure to watch this episode of Addiction Talk. If you find yourself battling a substance use disorder or an alcohol use disorder, please reach out for the help that you need today.
*Some of the wording from the interview was edited for clarity.